PADAHASTASANA
EXHALE. Place your hands underneath your feet with the palms facing up, as in A. Or only place the fingers with the palms facing up, as in B. Or bend the knees and place the full hand facing up underneath the feet, as in C.
INHALE. Look forward half the way up.
EXHALE. Bend forward. First the abdomen, chest, and then forehead or chin towards the legs. Stay about 5 Long Deep Breathings in this position.
INHALE. Lift up half the way. Strengthen the spine. Look forward.
EXHALE. Place both hands on your hips.
INHALE. All the way up. Stand up.
EXHALE. Release the hands by your side. Bring feet together. SAMASTHITI.
COMMENTS
Once you fold forward bring your head between your legs as back as you can. Yes, its possible!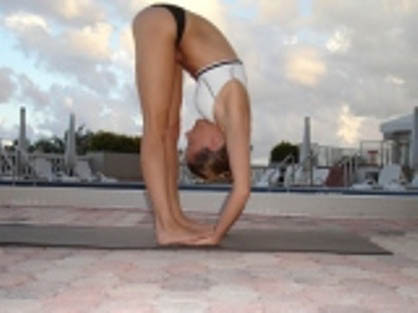 Photo A

Photo B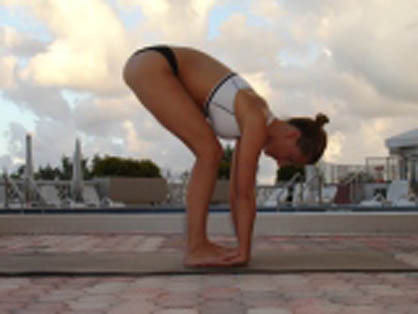 Photo C
Ashtanga Yoga Table of Contents
Surya Namaskara / Sun Salutation
Standing poses
Primary Series

Kukktasana
Baddha Konasana B
Upavishta Konasana B

Intermediate Series
Finishing Series
Poster To Go