SEX & TANTRIC SEX
What it really means to be spiritual? -Anger- Yoga & Tantric Sex
We usually consider a spiritual person someone who exhibits exemplary behavior that lacks the influence of strong negative emotions, such as anger deep sadness, fury, doubt, and
insecurity. We also associate spirituality with the lack of a need for material things. However, these beliefs dehumanize the spiritual person in that sexual desires are not even part of the picture.
Emotions and feelings are two different concepts. Feelings are developed over long periods of time and last longer than emotions, while emotions are more intense but have shorter durations. An easily identifiable emotion is anger, and, as an example, a person cannot experience anger for three months in a row. Yet, by channeling anger toward a particular situation or event, the person can transform anger into resentment, which is considered a feeling. Due to the negative connotation of anger, individuals with a spiritual practice should be immune to the emotion of anger.
Is it true that a spiritual practitioner doesn't experience these feelings?
To clarify this point, we must first analyze what is not spiritual practice. A spiritual practice a is not the act of blocking or denying our emotions. It is neither the process of following spiritual teachers, nor is it the constant repetition of mantras, which most people consider to be meditation.
The repetition of mantras causes physical and psychic changes in a person that result in improving the overall health and well being of that person. Even when studies have demonstrated that this type of practice has a calming effect on an individual, this is not the real and final goal of meditation. This calming effect is an absolutely necessary step to enter into a meditative state.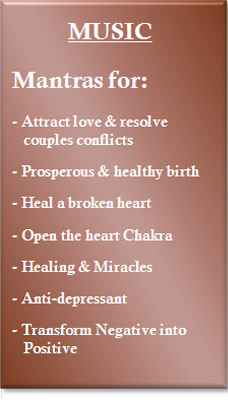 Many of us have fallen, at least temporarily, into believing the false perception that a person who seeks enlightenment or self-realization should experience a state of constant calmness, without any mood swings. However, spiritual teachings tell us otherwise. They encourage us to observe our emotions as ocean waves that change with the tide.
An individual engaged in a spiritual practice observes, experiments, and recognizes what is happening without allowing emotions to take control of his or her life. A spiritual practice entails accepting emotions, such as anger, sadness, uncertainty, and sexual desires, without letting any of them become the focus of his or her life. A common mistake is to overlook the positive benefits of emotions, such as anger. We all have experienced anger, and some experience it more than others. In Chinese culture, anger is called fire. In Ayurveda, it is called Pitta. This anger "element" has high benefits for our lives. It protects us, gives us strength to move forward, and is a source of creativity and sexuality.
Nevertheless, through the socialization process, we have associated this element with negative connotations. As a matter of fact, the more socialized we are, the less ability we have to express anger or do something considered "wild," which leads to a decrease in creativity levels and the inability to use sex for any purpose beyond using it as a tranquilizer. We must remember that to have an orgasm, we need fire. We need to allow ourselves to lose momentary control of a situation and be open to a world of sensations and pleasure.
Sexo v. Sexo Tántrico
Socially, sex has been classified on two fronts. On one front, there are those who are obsessed with sex and who constantly search for better and more sexual experiences. The other front includes those who reject, refuse, and otherwise subjugate sex. It is common to assume that sexual abstinence is needed to reach enlightenment. Yet, spiritual teachings tell us that rejecting or denying anything will not help us to reach a state of enlightenment.
The goal of Tantric sex is to experience Samadhi or complete ecstasy. In practicing Tantric sex, the woman has the role of protagonist. Against common beliefs, the more we love the person we are having sex with, the greater becomes our ability to withhold our sex fluids. Through holding these fluids, we enhance the ability of having sexual pleasure, allowing a couple to reach a higher level of ecstasy than would be experienced through regular sexual intercourse.
Sex has a leading role in the spiritual transformation of the human being. Usually, Tantra has been used as a synonym of spiritual sex. It is a much more than that! Tantric practice can be considered one of the largest spiritual systems in the world, which includes yoga and meditation, among other practices. The purpose of Tantra is to expedite the spiritual transformation process.
To achieve spiritual progress, all practices should be embraced, including sex, which has a unique role in the process of searching for higher states of consciousness. To ignore the role of sex is to close the road to our natural potential for complete happiness. Against common beliefs, sex is not the enemy, but is instead a powerful ally, if it is understood and used in an intelligent manner.
There are different ways of practicing Tantric sex, which change according to the personal preferences of the practitioner. In any case, the goal remains the same: we are aiming to nurture the pre-orgasm sexual energy to enhance our natural abilities to experience ecstasy for longer periods of time. Once we experience this level of ecstasy, even if it is just for a short period of time, a new inner world begins to emerge in our lives. This type of sexual practice is contrary to the general practice we might call "reproductive sex."
We know that sex connects us with a bigger dimension of what we experience on a daily basis. For this reason, we have become a culture that is obsessed with sexuality. Some of us are in favor of it and some of us are against it, but in the end, we all admire it. This admiration happens because sex is at the root of who we are; it defines us socially and individually. The longing to be united in ecstasy is part of who we are. Sexual intercourse has become one of the most rewarding experiences in life, particularly the pleasure of orgasm. It is worth considering decoding the mysteries of sex through Tantra
How do I start the process?
It is important to stress that Tantra is primarilymeditation and pranayama as well as other established practices in our daily lives. But Tantra does not overlook the importance of sex in our spiritual processes. Enlightenment is not possible if sex is not included in our yoga practice, helping us to unify our divine self with our physical being.
It is in our interest to help anyone who desires to explore this path. To provide a little guidance, we have developed a full page about Tantric sex in our online store. We appreciate your comments.
Related Articles
---
More Newsletter
February 2013 – TANTRIC SEX