PARIVRITTA PARSVAKONASANA
EXHALE. Open the right foot to the right. Left foot flat on the floor, and slightly in. Place the left elbow on the outside of the right knee, with the left hand on the floor, as in A, or in pray pose, as in B, or bend the back leg, placing the knee on the floor, as in C. Gaze at the fingers STAY HERE FOR 5 LONG DEEP BREATHS. INHALE.
Bring the torso all the up. Close the right foot, open the left foot.
EXHALE. Repeat #1 on the left side.
INHALE. All the way up. Feet parallel.
EXHALE. Walk or jump to the front of the mat.
COMMENT
To create that rotation in the torso, you want to apply pressure between the arm and the knee. Elongate the spine.
As a variation you can bend the leg that is back, as in C.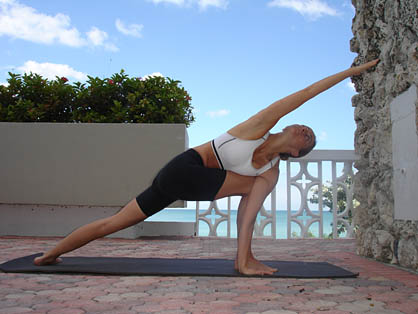 Photo A

Photo B

Photo C
Ashtanga Yoga Table of Contents
Surya Namaskara / Sun Salutation
Standing poses
Primary Series

Kukktasana
Baddha Konasana B
Upavishta Konasana B

Intermediate Series
Finishing Series
Poster To Go