UTKATASANA
To follow the primary series correctly you must repeat Surya Namaskara A, without remaining in Downward Facing Dog the 5 Long Deep Breaths. And jump straight into Utkatasana.
INHALE. Lower your hips, as in an invisible chair. Bring your arms up. Elbows straight. Look at the hands. Palms together, as in A, or interlace, as in B.
STAY HERE FOR 5 LONG DEEP BREATHS
EXHALE. Bend forward. Straight the legs. Hands on the floor. Forehead towards the knee
INHALE. Look up. Half the way.
EXHALE. Jump or step back. Push up position.
INHALE. Upward Facing Dog.
EXHALE. Downward Facing Dog to enter the next Asana.
COMMENT
Be in the lowest invisible chair you can be. A little trick is to touch with the fingers tips slightly the floor before bringing the arms up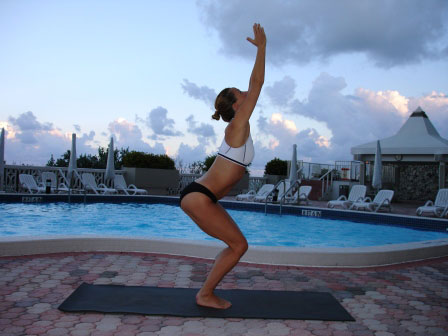 Photo A

Photo B
Ashtanga Yoga Table of Contents
Surya Namaskara / Sun Salutation
Standing poses
Primary Series

Kukktasana
Baddha Konasana B
Upavishta Konasana B

Intermediate Series
Finishing Series
Poster To Go