UTTHITA HASTA PADANGUSTASANA A
INHALE. Place left hand on the hip. Step one, bring right knee towards your chest, with both hands, as in D, you can remain here, or take the second step and grab the big toe with the middle and index finger, as in C, you can remain here also, or straight the leg forward and up, as in A. (DELETE )
EXHALE. Bring the head towards the knee, or remain in step one.
STAY HERE FOR 5 LONG DEEP BREATHS
INHALE. Bring your torso up. Look forward.
COMMENT
To contra rest the weight of the leg and find balance open the chest. Keep the leg on the floor straight at all times. It�s your base! Maintain the hips square.

Photo A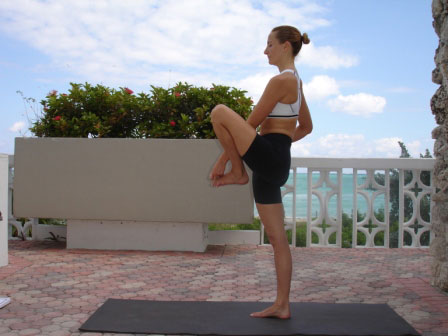 Photo B

Photo C
Ashtanga Yoga Table of Contents
Surya Namaskara / Sun Salutation
Standing poses
Primary Series

Kukktasana
Baddha Konasana B
Upavishta Konasana B

Intermediate Series
Finishing Series
Poster To Go