BHUJAPIDASANA
INHALE. From Downward Facing Dog jump and land with your legs on the upper arms, as in A, or place the feet outside the hands, as in B(D)), Don't remain here!!
EXHALE. Bend the legs and cross the ankles. Lower your head and bring the legs back about 3 inches from the floor, as in C(B), or place the head on the floor, as in D(C).STAY HERE FOR 5 LONG DEEP BREATHS
INHALE. Release and straight the legs, as in A.
EXHALE. Jump or step back to VINYASA.
COMMENTS
To been able to hold in this Asana you must been able to place your legs as close as your armpit as possible, if necessary bend your arms a little bite too. Choose well your option. When lowering the head balance out the weight of the body by lowering the head first and them pulling the legs back.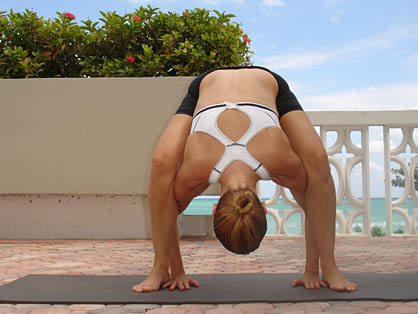 Ashtanga Yoga Table of Contents
Surya Namaskara / Sun Salutation
Standing poses
Primary Series

Kukktasana
Baddha Konasana B
Upavishta Konasana B

Intermediate Series
Finishing Series
Poster To Go