MARICHYASANA C
EXHALE. Bend the right leg. Wrap the left arm around the right knee. Grab the hands at the back. The left legs is straight forward has the toes flex, as in C, or grab the right knee with the left hand and place the right hand on the floor as back as possible, as in C2.
INHALE. Look up over the right shoulder keeping the grip. Lengthen the spine.
EXHALE. Go into the most appropriate option.
STAY HERE FOR 5 LONG DEEP BREATHS
INHALE. Look up over the right shoulder keeping the grip. Lengthen the spine
EXHALE. Release leg. VINYASA.
-REPEAT ALL THE STEPS IN THE LEFT SIDE-
-VINYASA-
COMMENTS
Bring the heel of the leg you are bending as close as you can to the buttocks. Create space between your torso and the thigh by leaning back with the weight of your body, so you can twist your body. Use the strength of the arms and shoulder blades to place the armpit and the arm around the bended knee. Maintain the left leg straight with the toes flex.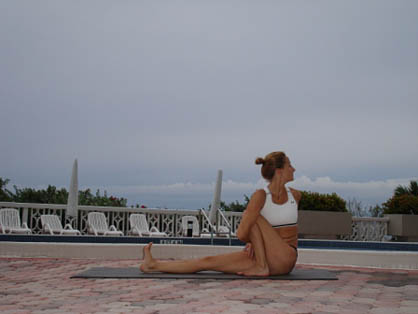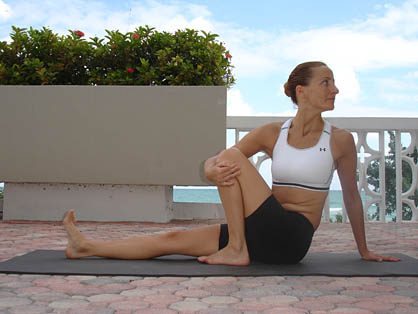 Ashtanga Yoga Table of Contents
Surya Namaskara / Sun Salutation
Standing poses
Primary Series

Kukktasana
Baddha Konasana B
Upavishta Konasana B

Intermediate Series
Finishing Series
Poster To Go