PRASARITA PADOTTANASANA B
EXHALE. Maintaining both hands on your hips. Bend forward till place top of the head on the floor, as in B, or halfway down, as in B1. STAY HERE FOR 5 LONG DEEP BREATHS
INHALE. All the way up.
COMMENTS
Maintain the neck in line with the body. Move slowly.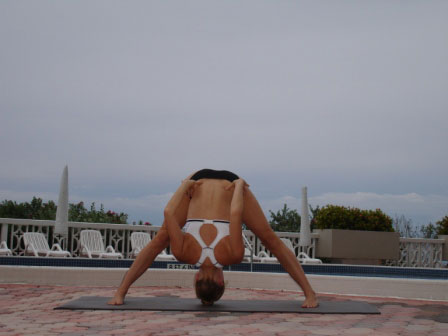 Photo B

Photo B1
Ashtanga Yoga Table of Contents
Surya Namaskara / Sun Salutation
Standing poses
Primary Series

Kukktasana
Baddha Konasana B
Upavishta Konasana B

Intermediate Series
Finishing Series
Poster To Go