Sri Aurobindo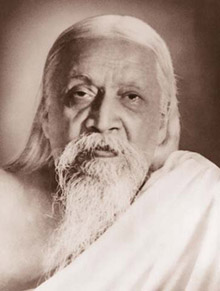 Sri Aurobindo was an Indian nationalist, scholar, poet, yogi and Guru who was born in Calcutta, India, on August 15, 1872.
After a short political career in which he became one of the leaders of the early movement for the freedom of India from Great Britain, Sri Aurobindo turned to the development and practice of Integral Yoga, inspired by his meditating on the scripture of the Bhagavad Gita while incarcerated for a year in Calcutta.
He wrote prolifically in English on his spiritual philosophy and practice, on social and political development, and on Indian culture. He also translated and commented on several Indian scriptures and wrote poetry.
In 1914, after four years of concentrated yoga at Pondicherry, Sri Aurobindo launched Arya, a 64 page monthly review. For the next six and a half years, this became the vehicle for the majority of his most important writings, which appeared in serialized form. These included The Life Divine, The Synthesis of Yoga, Essays on The Gita, The Secret of The Veda, Hymns to the Mystic Fire, The Upanishads, The Foundations of Indian Culture, War and Self-determination, The Human Cycle, The Ideal of Human Unity, and The Future Poetry.
He also wrote a small book entitled "The Mother" which was published in 1928 as a kind of instruction manual for the practice of Integral Yoga. In this short book, Sri Aurobindo wrote about the Divine Mother, the consciousness and force of the Supreme, and about the "Four great Aspects of the Mother, four of her leading Powers and Personalities (which) have stood in front in her guidance of the Universe and her dealings with the terrestrial play…" He also wrote about the conditions to be fulfilled by the "Sadhaka" or practitioner of yoga in order to be receptive to the Mother's Grace.
Integral Yoga Table of Contents