Triple Transformation
One of the major topics found in Sri Aurobindo's integral yoga is the triple transformation.
This is the process through which realty is transformed into the divine.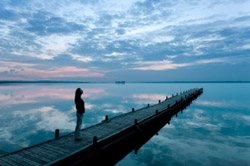 – Psychicization: This is one of the most essential stages of integral yoga. It refers to a spiritual movement inward so that one realizes the psychic being – the psychic personality or Divine Soul – in the core of one's being, and enables this to transform the outer being as well as serve as a spiritual Guide in yoga.
Psychicization can serve as a prequel to spiritualization (equivalent to "Enlightenment"), although they do not have to follow any sort of order. However, both the psychic and the spiritual transformation are equally necessary for the final stage of Supramental transformation.
– Spiritualization: As a result of the Psychic transformation, light, peace and power are drawn into and descend into the body, transforming all of its parts physical, vital, and mental. This is the Spiritual transformation, or Spiritualization, which refers to the bringing down of the larger spiritual consciousness or spiritual transformation.
– Supramentalization: Sri Aurobindo considered man's present mental consciousness to be a transitional stage in terrestrial evolution, and that our civilization is at the brink of an evolutionary leap or shift towards a greater or 'supramental' experience.
This is the ultimate stage in Integral Yoga. It refers to the bringing down of the Supramental consciousness and the resulting transformation of the entire being.
All aspects of division and ignorance of consciousness at the vital and mental levels would be overcome, replaced with a unity of consciousness at every plane, and even the physical body wold be transformed and divinized.
Sri Aurobindo explained: A new supramental species would then emerge, living a supramental, gnostic, divine life on earth.(The Life Divine book II ch.27-28)
Integral Yoga Table of Contents