Maha Bhanda or the Great- Lock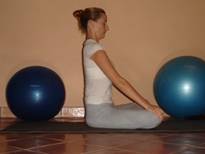 This technique consists in the application of three locks at the same time while holding the breath out in perfect posture and concentration. It is practiced after breathing exercises, Pranayama, and postures. It is said that the body is in its perfect healing state.
This Bhanda helps to balance blood pressure,aid with poor circulation, glands, nerves, menstrual cramps, and irregularity.
Bhanda Table of Contents