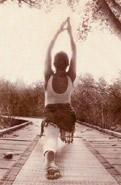 The original version of yoga was created by people of India who were very limber. The poses were probably less severe than a contortionist's, but the average Westerner would not be suited for classical yoga. We have not trained our bodies for this type of exercise, and it would probably not benefit us in the ways it is intended to.
Yoga practices began in the West about a century ago, with many different variations of yoga arising from the original form. Certain styles remained intact, while others have changed along with our growing knowledge of the science behind exercise.
Some people prefer to practice entirely spiritual forms of yoga, while others lean towards its counterpart which is completely physical yoga. These are two extreme forms of yoga, but many of today's variations include equal parts of each: yoga postures along with guided meditation. Balance is a key concept in yoga, and the mental and physical aspects of each person are equally important.
Because there are so many different forms of yoga, there are equally diverse teachers to relay this information to students. The approaches include a yoga instructor talking their students through poses and meditation, demonstrating and then asking the class to try, and performing poses and sitting in a meditative position while the students do the same. If you attend a yoga class and do not benefit from the instruction you receive, don't give up on yoga altogether. Attend a yoga class with a different teacher, or possibly one that practices a different type of yoga.
The majority of yoga instructors attended yoga classes before they began teaching them, as well as specific courses on training others in yoga. There are seminars that instructors can attend to refresh their current knowledge and to learn new techniques to better their teaching techniques. The teacher must also take his or her students into consideration when delivering methods; if students have been injured, are older in age, or are very out of shape, it is up to the instructor to cater to their needs while still adhering to certain guidelines. Although yoga is not a new concept, the ever-growing practice has branched out with concept, technique, and practice so everyone can participate in this healthy way to upkeep the mind, body, and soul.