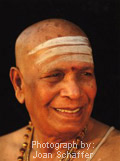 Today, May 18, 2009, Sri Krishna Pattabhi Jois passed away. He was 94 years old.
He was the master teacher of Asthanga Yoga and responsible for spreading the teachings and practice of Ashtanga Yoga all around the globe.
Today he passed on, leaving his legacy behind.
Cermonies willl be held all over the word in his honor. Please check your local Ashtanga Yoga studio for information in your area.
http://s3cr3ty0stg2.wpengine.com/Ashtanga/Sri-Krishna-Pattabhi-Jois.html