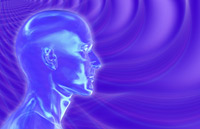 One of the principles of the Yoga Sutras of Patanjali is called Pratyahara, which is the process of becoming aware of and controlling the thought waves of your mind. Pratyahara is about substituting negative thoughts with positive ones. When you realize that you are thinking thoughts like "I can't do it" or "I'm a failure", substitute these thoughts with "This will work out" or "I'm strong", and truly believe it. These last thoughts are like positive mantras that you should repeat all the time.
Pratyahara applies to habits too. Every time you have the urge to repeat a habit that you no longer want in your life, substitute it with a positive habit. For example, eat fruit rather than a high calorie snack. If you smoke, substitute chewing gum for cigarettes.
As you practice Yoga, your internal state of being begins to change and you will find that some of your old habits no longer serve you well. Most of the time this happens without your noticing them. They fade away naturally and are soon replaced with healthier new habits. Many people feel that the practice of yoga has changed their lives in a healthier way. They feel more sensitive to what they are putting in their bodies and they enjoy the feeling of being healthy more than the momentary enjoyment of eating something tasty but unhealthy. The same is true with thoughts. You'll find yourself with a clearer mind and more positives thoughts about yourself and your life. However, it is a process. Don't get disappointed if you find this healthy change is getting difficult. It will come naturally.
Remember, change your negative thoughts for positive ones… It's that easy !!!