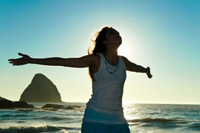 Prayer is a deeply personal process. People instinctively use prayer to get in touch with their inner selves, projecting their feelings to the Universe. Viewing prayer on a purely energetic level, it is the union of the body, mind and spirit in a way that aligns the individual with the universal.
No single religion has a monopoly on prayer. Whether you believe that power comes from within or from the external power of the absolute, God, or wherever you want to call it, the power is just there, waiting to be accessed. The most important factor in prayer is attitude. A sincerely compassionate and loving attitude creates prayer.
While you are praying, you are in control of the self in which you can talk to the infinite. When you meditate, it's as if God is talking to you. When you pray, you talk with God.
There is no right or wrong way to pray. There are no specific techniques. Just talk, thank, ask for, pray for you, your family, your friends, the world, talk with God with no fear but with love, compassion, and gratitude. The power of prayer is a gift and through our prayers, we become empowered and full of strength. This power is real, and we can feel it and depend on it.
"I believe that the power of prayer is first felt inside of us. It's a sense of God's assent, somewhat like someone answering our phone call when the phone has been ringing for a long time and we're wondering if maybe we should just hang up and try again another time. Then a voice answers and simply says, 'I'm here. I'm listening to you.' Communication has been established!… The power of prayer is the constant renewal of perspective. Prayer opens our eyes. It extends our horizons. It sheds light into the darkness of our fears and our sorrows, our hopes and joys, our shame and our pride. It gives us new ways of seeing life and relationships, of understanding work and the cost of growing." Rev. Margaret B. Gunnes