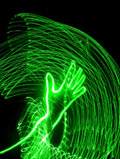 Fibromyalgia is a disorder classified by the presence of chronic widespread pain. Other core features of the disorder include fatigue, sleep disturbance and joint stiffness. In addition, people affected by the disorder frequently experience a range of other symptoms that may involve difficulty with swallowing, difficulty breathing, and cognitive dysfunction. An increased prevalence of affective and anxiety-related symptoms is also well known. The cause of fibromyalgia is currently unknown and there is as yet no generally accepted cure for this disease.
A new research project at the University of Utah, guided by Dr. David Bradshaw, is investigating the potential benefits that Breathwalk may provide to patients with this disorder. Breathwalk is a yogic technique developed by Yogi Bhajan and Dr. Gurucharan Singh Kalsa. It combines the exercise of walking with specific breath patterns and meditation.
The study will compare Breathwalk with simple walking in order to determine any effect that this exercise may have on the reduction of fibromyalgia symptoms. This study will contribute to the knowledge of pain disorders and likely verify the powerful effects of Kundalini Yoga on the mind, body and spirit, helping to cultivate a better and healthier way of life.