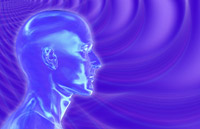 The Director of Research for the Kundalini Research Institute, Dr. Sat Bir Singh Khalsa, presented the program "Yoga: A Meditative Discipline", in the NIH (National Institutes of Health) and the NCCAM (National Center for Complementary and Alternative Medicine) , in Bethesda, MA, on July 8 and 9, 2008.
There, he discussed the fundamental components of Yoga practice – meditation, asanas and pranayama – along with an introduction to the history of yoga practice in the U.S., its development and progress in the American culture, and the increasing use of yoga as an alternative medicine.
Khalsa proposed some specifics topics for future studies related to Yoga and meditation. He also presented information regarding current research studies based on meditation in insomnia cases, breath control, response to music and yoga, and more.
Sat Bir Singh Khalsa, Ph.D., has a doctorate in human physiology and neuroscience. He has conducted research in neuroscience, biological rhythms, sleep, and sleep disorders for more than 25 years. He has also been involved in the practice of yoga for more than 35 years and is a KRI certified Kundalini Yoga Instructor.