BREATHING TO Change NOSTRILS AT WILL AND TO ALTER MENTAL STATES
How to do it
Sit down in a comfortable meditative posture.
Interlace the fingers, leaving the right thumb on top. Apply pressure.
The hands are touching the body at the level of the diaphragm, in the center.
Close the eyes.
Concentrate on breathing in and out and focus on the tip of the nose. Determine from which nostril you are breathing. Be patient and give it at least 3 minutes.
Then change the nostril. If breathing through the right nostril, switch to the left.

Duration: 1 min to 31 min.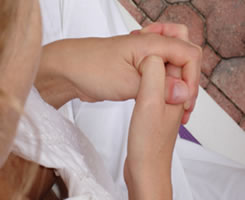 Benefits
Alter mental states.
Practice is recommended at the first sign of illness.
Prevents nerve breakdowns.
Comments
You should be able to switch nostrils by concentrating on it. The left side is directly related with calmness, and the right nostril with energy. So if you can't feel sleep at night, lie down on the right side and with the pillow apply slight pressure to the right nostril so that you are breathing through the left nostril.
To learn more about how the nostrils work. Click here.