Maha Bhanda or the Great- Lock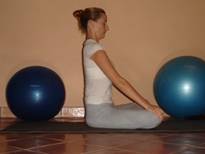 This technique consists in
the application of three locks at the same time holding the breath out in a
perfect posture and concentration. It is practice after breathing exercises,
Pranayama, and postures, Asanas. It said that the body it's in a perfect
healing state.
This Bhanda helps to bring
back to balance blood pressure, poor circulation, glands, nerves, menstrual
cramps, irregularity.