Yoga Tips for Beginners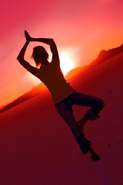 Beginning something new can often be unnerving, especially when you are alone for the experience. Unfortunately, many people do not join fitness classes because they feel intimidated by working out in front of other people, especially a room full of strangers. Yoga is a great exercise regimen to begin with because the people who practice it are nonjudgmental, and the classes tend to be slow-paced with hands-on instruction and plenty of positive reinforcement. Here are a few tips if you are planning to attend a yoga class, but would like more information on the practice:
1) Purchase a good quality yoga mat.
A lot of yoga postures are performed sitting, lying, and kneeling which can be hard on the body when done on a solid surface. A yoga mat cushions all areas of the body, and makes for a comfortable seat during meditation. There are many yoga mats available on the market, but it is important to buy a good quality mat so it can protect you from bodily harm.
2) Purchase apparel for yoga.
Yoga is different from most other forms of exercise because of the many yoga postures that require the body to twist and bend in many new forms. If the clothing is too baggy you may expose areas of the body you did not intend to, and if too tight, clothing can make yoga uncomfortable. Some yogi choose to wear only natural fabrics like cotton and hemp because they allow air to flow directly to the body. Many yogi prefer most things in their natural form. Others prefer to wear clothing that has lycra or spandex in it so that it clings comfortably to the body and the apparel stays in the places it should. It is personal preference as to what you wear to yoga, but it is a good idea to try on clothes and move about in them to see how well they work with your movements.
3) Designate an area to practice yoga at home.
If you decide to try yoga at home before you attend a class, prefer to learn from DVDs or books alone, or would like to practice yoga outside of an instructional class you will need to clear a space in your home to do yoga. A spare bedroom, sunroom, or any space you can move around in uninterrupted will work well. Doing yoga in noisy or cluttered rooms can interfere with the mind's concentration, making the practice less effective.
Yoga is intended to be a process where people work to the best of their ability and improve on form and endurance over time. The body should never be strained or injured during yoga. With that in mind, the following are yoga postures – asanas – that are great for beginners to try out:
1) Bridge Pose
2) Head to Knee Pose
3) Shoulder Stand
4) Fish Pose
5) Backward Bend Poses
6) Corpse Pose
7) Twisting Poses