IMPORTANT!
DURING PREGNANCY AVOID:
ALL INVERTED POSITIONS OR POSITIONS THAT PLACE THE HEAD BELLOW THE HIPS.
DO NOT HOLD THE BREATH OUT, BUT IT'S FINE TO HOLD THE BREATH IN.
BREATH OF FIRE (do Long Deep Breathing instead)
STRENUOS SPINAL TWISTING POSITIONS, like Marytsasana D.



TUNE IN
"Ong Namo Guru Dev Namo" 3 times
LONG DEEP BREATHING 1-3 minutes
BASIC SPINAL FLEX 26 times
SITTING
Sit in easy pose and grab the ankles. Inhale as you bend the spine forward, and then exhale back while pushing the lower spine back. Inhale and exhale through the nose. The head is maintained at the same level. It releases the lower back.
STANDING
You can also try this exercise standing. Place the feet hip distance apart and slightly bend the knees. Place the hands above the knee and inhale as you bend the spine down with the head up. Exhale and bend the spine up with the head down.
TORSO TWIST 26 times
Sit down in easy pose and place the hands on the shoulders with the thumbs back, maintaining the arms parallel to the floor. Then inhale left, exhale right thought the nose. The head also twists back.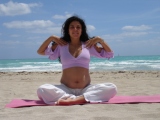 BUTTERFLY STRETCH  2-3 minutes
Sit on the floor and bring the soles of the feet together. Grab the feet with both hands and move the knees up and down, breathing through the nose. To end, you can place the hands on the knees and push them down while lengthening the spine for a few seconds.
PREGNANCY LIFE NERVE STRECTH   2-3 minutes
Sit on the floor with the legs apart. Flex your feet and extend you arms forward, parallel to the floor with the palms facing down. Inhale and lean back slightly, then exhale and move forward, stretching the arms forward while parallel to the floor. Mentally vibrate the mantra SAT in the inhalation and NAM in the exhalation.
Good for the lower back and for relieving constipation and gas. It also strengthens the back of the legs.
SQUATTING
Start with 1 minute and then increase with time.
Standing up with the feet hip distance apart, lengthen the spine and looking forward. Exhale and bend the knees, going as low as possible. Interlace the fingers and place the arms around or between the knees. Hold the position breathing through the nose for a minimum of 1 minute.
Squatting is a highly recommended position in pregnancy Yoga. It prepares the body for birth, providing greater flexibility and strengthening the pelvic area. It also aids in elimination, releases gas, and eases constipation.
If this becomes too intense, you can use a wall as support.
MANTRA MEDITATION  Choose one from the pregnancy meditation section and do it from 3 to 11 minutes