B.K.S. Iyengar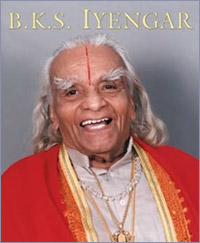 The creator of Iyengar Yoga, Bellur Krishnamachar Sundararaja Iyengar was born in 1918 into a large, poor family in the village of Bellur in the Karnataka state in India.
His mother gave birth to him during an influenza epidemic which left him sickly and weak. His father died when he was only 9 years old.
As a result, Iyengar went to live with his brother in Bangalore. His childhood was further marked by a variety of serious illnesses including malaria, tuberculosis and typhoid, all worsened by malnutrition.
At the age of 15, while staying with his eldest sister in Mysore, he started practicing yoga with his brother-in-law, the scholar and yogi Sri T. Krishnamacharya. There, Iyengar began to learn asana practice which steadily improved his health. Soon he overcame his childhood weaknesses.
In 1937, Iyengar moved to Pune to teach yoga, spending many hours each day learning and experimenting with various techniques. As his method improved, his fame began to spread and the number of students increased. Iyengar introduced the concept of teaching yoga to groups, and he was a pioneer in teaching yoga to women. Many medical people began to refer patients to his classes as he began to adapt classical yoga poses to the special needs of each student.
In 1943, his brothers introduced him to Ramamani and they were wed in an arranged marriage. In 1952, Iyengar met and befriended the famous violinist Yehudi Menuhin. Menuhin arranged for Iyengar to teach abroad in London, Switzerland, Paris and elsewhere. This was the first time that many Westerners had been exposed to yoga and the practice slowly became well known. He also worked with J. Krishnamurti.
Mr. Iyengar has developed extensive ways of applying his practice to various ailments, diseases, and disorders. Many of these sources of suffering – from chronic backache and immunodeficiency, to high blood pressure, insomnia and depression – have specific programs of Iyengar yoga associated with them.
In 1966, Iyengar published his first book "Light of Yoga", which is often considered "The bible of Yoga". The book describes and illustrates hundreds of yoga poses and many breathing techniques. It became an International best seller and was translated into 17 languages.
Mr. Iyengar has since authored about 14 books which have become classic yoga texts, including "Light on Yoga", "Light on Pranayama" which focuses on breath work, "Light on the Yoga Sutras of Patanjali" which is a translation and interpretation of the ancient Yoga Sutras from which Iyengar drew the philosophical groundwork for his method of yoga, "The Tree of Yoga", and "The Art of Yoga". His most recent book, "Light on Life", addresses the mental and spiritual aspects of yoga.
In 1975, Mr. Iyengar opened the Ramamani Iyengar Memorial Yoga Institute in Pune in memory of his departed wife. He officially retired from teaching in 1984 but continues to be active in the world of Iyengar Yoga, teaching special classes, writing books and involving himself in the institute and its charitable foundation.
Iyengar's daughter, Geeta, and son, Prashant, began teaching yoga under his guidance, gaining international acclaim as teachers. His methods are also taught at Iyengar institutes throughout the world, and many yoga centers offer Iyengar classes.
Iyengar has been named one of the 100 most influential people in the world by Time Magazine. He was awarded the Padma Shri in 1991 and the Padma Bhushan in 2002.
---
Hatha Yoga Table of Contents
Balancing Postures
Backward-Bending Postures
Twisting Postures
Abdomino-pelvic Exercises
Forward-Bending Postures
Hatha Yoga Routines