Broccoli in Spicy Orange Sauce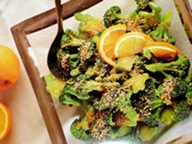 Serves: 6
Preparation: 15 Minutes
Cooking: 10 minutes
2 lb(1 kg) broccoli
½ cup (4 fl oz/ 125 ml) orange juice
2 teaspoons honey
1 teaspoon Dijon mustard
1 Teaspoon grated orange zest
½ teaspoon reduced-sodium soy sauce
1 garlic clove, crushed with a garlic press
1/8 teaspoon red pepper flakes.
1 ½ teaspoon cornstarch
1 tablespoon water
1 teaspoon sesame seeds, toasted
1- Trim the broccoli florets into pieces about 1 ½ inches (4cm) long. Cut the stalks crosswise into pieces about 1/3 inch (9mm) thick.
2- In a large pot fitted with a steamer basket, bring 2 inches (5 cm) water toa boil. Add the stalks, cover, and steam for 2 minutes. Add the florets and steam for 5 minutes longer.
3- Meanwhile, in a small saucepan over medium high heat, bring the orange juice, honey, mustard, orange zest, soy sauce, garlic, and pepper flakes to a boil.
4- In a small bowl, whisk together the cornstarch and water. Stir into the orange juice mixture and cook until thickened, about 1 minute.
5- To serve, in a serving bowl, gently toss the broccoli with the sauce to coat. Sprinkle with the sesame seeds.
Per serving:½
Calories: 67
Kilojoules: 279
Protein: 5g
Carbohydrates: 13g
Total Fat: <1g
Saturated Fat: <1g
Cholesterol: 0 mg
Sodium: 78 mg
Dietary Fiber: 4 g
More Newsletter
February 2013 – TANTRIC SEX