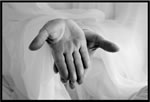 Inspired by her gratitude for Kundalini Yoga, the teachings of Yogi Bhajan.
Mudra is a multimedia sensory experience.
Combining Mudra (hand gestures) and Mantra (sacred sounds), the viewer will have the opportunity to be immersed in the sensation ofwell- being caused by the practice of these
full meditations.
ONENESS
Is it possible for the thinker and the thought, for the observer and the observed, to be ONE?
For thousands of years the Indian Yogis have been known for their expertise in the control of the mind-body. Through a conscious intent, they could influence the autonomic nervous system and blood pressure, reduce the secretion of acids in the stomach, change heartbeats, change the body temperature, and more.
There is no doubt that the mind affects the body, and the spirit is the source of both, body and mind. They explain that the mind has the power to transcend the body.