Solstice Hot Sauce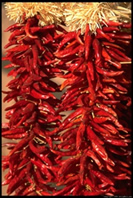 3 large onions, chopped.
¼ cup dry crushed red chiles.
8 oz. Tamarind concentrate.
16 oz. Hot water.
1 ½ cup sesame oil.
1 tbsp. Turmeric.
10 whole small dry red chiles.
2 cups apple cider vinegar.
1- Put onions in a large bowl. Sprinkle with crushed chiles.
2- Melt tamarind concentrate in hot water.
3- Add oil and diluted tamarind to onions. Sprinkle with turmeric.
4- Add whole chiles and vinegar. Stir and cover.
5- Let sit overnight or several days for the fullest flavor.
6- Store in refrigerator. It will keep a long time, and get better and better.
Yields 2 quarts.
More Newsletter
February 2013 – TANTRIC SEX