Golden Milk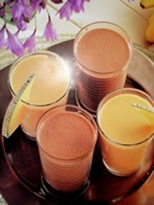 1/8 tsp. Turmeric
¼ cup water
8 oz. Milk
2 tbsp. Raw almond oil
honey to taste
1- Boil turmeric in water for about 8 minutes until it forms a thick paste. If too much water boils away, add a little more water.
2- Meanwhile, bring milk to a boil with the almond oil. As soon as it boils, remove from the heat. Combine the two mixtures and add honey to taste.
3- If you like, you can prepare a reserve supply€ of turmeric paste by boiling a larger quantity of of turmeric and storing in the refrigerator up to 40 days.
As a change of pace, whiz golden milk in the blender until frothy, and serve with a sprinkle of cinnamon.
More Newsletter
February 2013 – TANTRIC SEX