"Mung Beans & rice-Kitchari"
"Kitchari" is a a type of food that supports the digestive system in a cleansing process, and provides essential nutrients. It's a warm and energizing food you should try next time you feel low of energy or under the weather. It's use during the White Tantric Yoga practice as the main dish, and also as a panchakarma meal.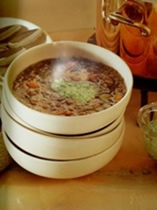 Serves: 4-6
1 cup mung beans
1 cup basmati rice
9 cups water
4-6 cups chopped assorted vegetables (carrots, celery, zucchini, broccoli, etc)
2 onions, chopped
1/3 cup minced ginger root
8-10 cloves garlic, minced
1 heaping tsp. Turmeric
½ tsp. Pepper
1 heaping tsp. Garam marsala
1 tsp. Crushed red chiles
1 tbsp. Sweet basil
2 bay leaves
Seeds of 5 cardamon pods
Salt or soy sauce to taste.
1- Rinse beans and rice. Bring water to a boil, add rice and beans and let boil over a medium flame. Add vegetables to cooking rice and beans.
2- Heat about ½ cup oil in large frying pan.
3- Add onions, garlic and ginger and saute over a medium-high flame until browning. Add spices (not salt or herbs)
4- When nicely done, combine onions with cooking mung beans and rice. You will need to stir the dish often to prevent scorching.
5- Add herbs. Continue to cook until completely well done over a medium-flow flame, stirring often.
The consistency should be rich, thick and soup-like, with ingredients barely discernible.
Serve with yogurt, or with cheese melted over the top.
More Newsletter
February 2013 – TANTRIC SEX