These exercises are designed to blend the polarities of the male and female energies. They also deepen love and divine consciousness between both partners. There is something special that links you with your partner by doing meditations and exercises together. It can be very sexy to know that both of you have the same goal in mind: to strengthen and better your relationship.
These kriyas were taught by Yogi Bhajan and are very similar to a Tantric experience. Back in the 1970's, each exercise was taught for 31 minutes. However, a 3-minute time limit for each Kriya was established in the 1980's. This is due to the powerful effects of these kriyas, thus the following guidelines were established:
The limit for each Venus Kriya is 3 minutes. No more!
A Kundalini Yoga set should be performed first in preparation.
Choose a proper environment, a relaxed place.
How to get started
Sit with your legs crossed while facing your partner. Place the hands in prayer mudra. Tune in using the following mantra:Ong Namo Guru Dev Namo, 3 times
Chant the protection mantra 3 times:Aad Gurey Nameh — pronounced ahd goo-ray nahmay  
Jugad Gurey Nameh –pronounced yoo-gahd goo-ray nah-may
Sat Gurey Nameh – pronounced saht goo-ray nah-may
Siree Guroo Dayvay Nameh – pronounced see-ree goo—roo day-vay nah-may
The translation is as follows:
I bow to the primal wisdom
I bow to the wisdom of all ages
I bow to the truest wisdom
I bow to the great universal wisdom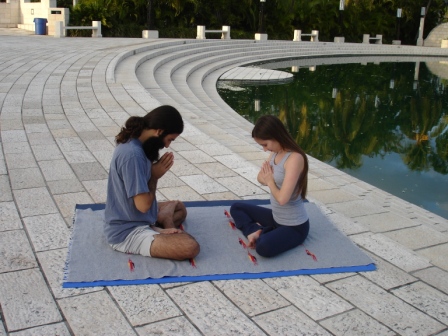 Keep the hands in prayer mudra, look into your partner's eyes, and project divine love. Bow your head to each other in recognition of the divine consciousness within him/her.
When you finish each Venus Kriya, stretch the arms up and twist from side to side. Next,  look into your partner's eyes and say Thank You and Sat Nam. Afterward, you may want to massage each other or simply relax.
LIFE CURRENT KRIYA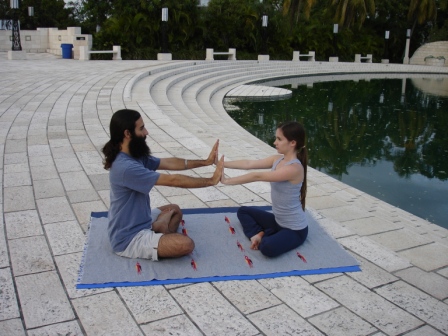 In easy pose, extend your arms forward and touch your partner's palms. Close your eyes and hold this position for 30 seconds. Then inhale deeply and exhale 4 times.
Place the hands in prayer mudra at the chin and meditate in your own natural way for 2 ½ minutes. Then inhale, exhale, and relax.
MEDITATION TO END AN ARGUMENT 1
This meditation is great when you  and your partner are arguing and can't seem to find middle ground. It releases the anger and increases tolerance.
Sit in easy pose 4 to 5 feet away from your partner. Make fists with your hands while keeping the thumbs touching. Place the backs of the hand facing you, about 6-8 inches in front of the third eye. Close the eyes. When you are finished, simply relax.
Breath: Long deep breathing
Mantra: Wha Hay Guroo- pronounced wha-hey goo-roo – divine wisdom. Vibrate the mantra.
MEDITATION TO END AN ARGUMENT 2
Assume Downward Facing Dog by touching your heels with your partner's heels as shown in the photo. Gaze into each other eyes and hold the position for 3 minutes.
Breath: Long Deep Breathing
Mantra: None
VENUS LOTUS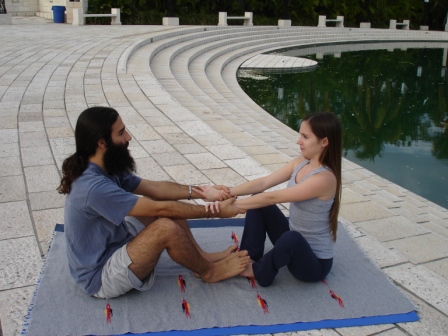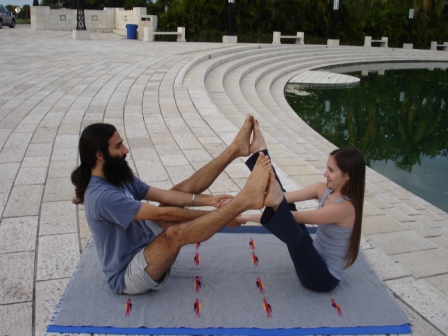 Sit in front of your partner and place the soles of your feet against those of your partner's. Clasp hands and raise the legs 60 degrees. Look into each other's eyes and project divine love. Visualize both of you as one.
Breath: Breath of Fire. It can also be done with Long Deep Breathing.
Mantra: None
VENUS BACK ROLLS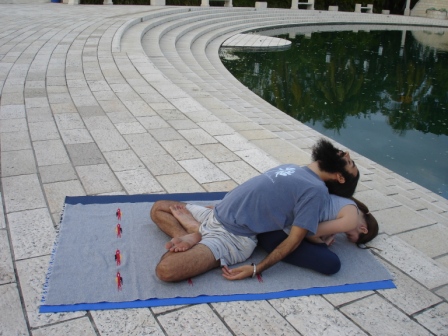 This kriya establishes a joint rhythm and psychic communication between partners while loosening the spine.
Sit back-to-back in easy pose. Join the backs together in perfect alignment with the hips and spine. Inhale as you relax back against your partner, and exhale as you bow down while your partner relaxes back.
TIPTOE KRIYA
This kriya is for the heart as it will give you a good physical workout.
Stand up and interlace your fingers with your partner's. Look straight into your partner's eyes. Inhale while bringing the arms up and stretching onto the toes. Then exhale into crow pose with the feet flat on the floor.