Ego eradicator exercise
The teachings Of Yogi Bhajan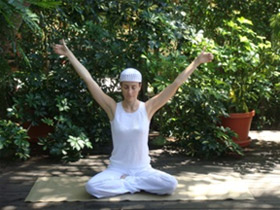 Benefits: It works on the ego while also strengthening the sixth body, also known as the arc line, or halo.
How to do it: Sit in easy pose with the spine straight. Bring the arms up at a sixty degree angle with the floor. Curl the fingers towards the pads of the palms and extend the thumbs.
Breath: DoBreath of Fire.
Time: Start with 3 minutes and gradually build up to 31 minutes.
To end: Inhale, hold the breath and bring the arms up until the thumbs touch above your head. Then exhale, open the hands and bring the arms down as if you are swiping the aura of all negativity, tension, and worries.