Meditation to change the ego
The teachings of Yogi Bhajan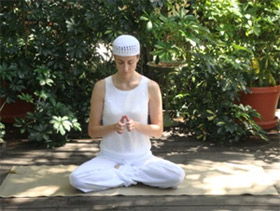 Benefits: This meditation will allow you to concentrate so deeply that you will be able to observe your attachments. Once you find these attachments, you can release them by disassociating yourself with them. You can give the object of identification to the cosmos or to God. This meditation also combats tension and hypertension.
How to do it: Sit in easy pose with the spine straight. Place both hands at the level of the heart center. Curl the fingers into a loose fist. Extend the thumbs and point them upwards. Then bring the hands together until the top part of the thumbs touches. The rest of the hands doesn't touch.
Look at the knuckles of the thumbs.
Breath: Inhale through the nose for 8 seconds. Exhale for 8 seconds and hold the air out for 8 seconds.
Start with this ratio and gradually increase the time equally.
Time: Start with 3 minutes. You can build up to 31 minutes.
To end: Inhale and stretch the arms over the head. Open and close the hands several times
and relax.