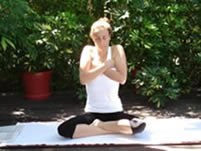 There are numerous benefits of meditation. This practice restores emotional balances, allows the mind and body to perform in a simple state of "being," and cleanses the soul of negative energy.
Our bodily functions relate to the five elements of life: Earth, water, fire, air, and ether. Water makes up seventy percent of the body's composition. When water is not properly proportioned in the body, the kidneys receive pressure, which creates mental turmoil; we become upset or nervous. Air is also an essential part of the human body, which we take into our systems several times a minute by breathing oxygen.
A healthy adult takes about fifteen breaths per minute. With practice, a person can slow their breathing down to four (or less) breaths per minute. This can be achieved through meditation, an act that calms the mind. Meditation can aid in behavioral issues that occur within a troubled mind.
During meditation, one must be hydrated and sit with their shoulders at a slightly elevated position to balance the brain and preventing negative attributes.
Start your meditation after consuming a glass of water. Sit on the ground in easy pose and cross your arms high over your chest with your open hands underneath your arms. Raise your shoulders, pay no mind to sounds, and perform neck lock, explained on this web page: /bhandas/Jalandhara-Bhanda-or-Neck-Lock.html. The eyes should be closed during meditation.
Breathe deeply in and out of the nose. The number of breaths you intake per minute will decrease when this technique is used.
Meditate for  as little as three minutes, and up to eleven minutes. It may take time to meditate for a lengthier session.