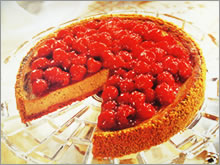 Serves: 8 to 10
Crust
20 individual fat free graham crackers (about 1 cup)
1 egg white
2 teaspoons honey
Filling
4 cups (2 pounds/ 900g.) low fat silken tofu.
2 white eggs
¼ cup raisins
¼ cup orange juice
5 tablespoons maple syrup
1 teaspoon grated orange zest
1 teaspoon vanilla extract
½ teaspoon orange extract
½ teaspoon cinnamon
1 vanilla bean, optional
½ cup low fat cocoa powder
Canola oil cooking spray
Fruit Topping
2 teaspoon cornstarch
2 tablespoons apple juice
8 ounces frozen berries
¼ cup fruit sweetener
1 cup fresh berries (raspberries, blueberries or strawberries)
Preheat oven to 350
Spray a 9 inches round cake pan and cover the bottom with a piece of wax paper
Process the Graham crackers to crumbs
Add eggs white and honey and mix everything until make dough.
Press dough into bottom of prepared cake pan.
Place Tofu, eggs white, raisins, orange juice, maple syrup, orange zest, cocoa, vanilla and orange extract and cinnamon into a bowl and mix for about 2 minutes
Add crumbled vanilla mix into the mixture and continue mixing for 1 more minute.
Pour the mix over the crust and bake for about 1 hour, until the cheesecake is firm.
Let it cool and chill
For topping, dissolve cornstarch in apple juice.
Place frozen berries in a saucepan with sweetener and bring to boil.
Add dissolved cornstarch and boil until thick, about 2 minutes. Remove from heat
Stir fresh berries into preparation
Spoon fruit topping over the top of the cheesecake
Chill until ready to serve.
Nutritional Information
Calories: 163
Fat: 1g
Saturated Fat: 0.2 g
Cholesterol: 0g
Protein: 8.7g
Carbohydrate: 56g
Fiber: 3.6 g
Sodium: 103 mg