After 40, the intake of food should be less, not more!
It's recommended that you reduce your daily intake of food by 50 calories per year after the age of 40 in order to maintain your weight.
Fresh (better) or steamed vegetables and fruits are a must. Avoid processed and fried foods.
Doctors recommend that women should start taking calcium supplement after the age of 30. The recommended dose is from 600mg to 1,500 mg. It's best taken with magnesium and vitamin D because they help the body to better absorb the calcium.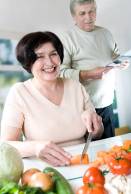 Soy contains estrogens and isoflavones. This reduces hot flashes and may prevent some type of cancers.
It lowers the cholesterol.
Soy products are naturally rich in calcium.
In Japan, soy foods are consumed daily. Only one-third of women report menopausal symptoms as in the United States or Canada.
Vitamin E is a powerful antioxidant. This may help to reduce hot flashes and keep you young.
Herbs:
Black Cohosh: To relieve hot flashes.
Evening Primrose oil: To relieve hot flashes and promote hormonal balance.
Chasteberry (Vitex): Breast tenderness and PMS.
St. John's Wort: Use for depression and anxiety.

Yoga For Women

Sexuality & Intimacy
Pregnancy, Child Birth, and Postpartum