The Ego
Practically all spiritual teachings talk about the ego as an obstacle to enlightenment. Buda, Krishnamurti, Osho, Eckhart Tolle, and many more point to the Ego as one of the main sources of suffering.
The Ego or narcissism – more widely known as me, me, me, and me – doesn't allow us to experience the union between the physical plane and the divine. It creates a separation between me and you, or me and them: my God, your God, my Country, your Country, my political affiliation, your political affiliation, my planet, your planet.
If you observe the ego in depth, you will find it is a mechanism that lives by its attachment to everything.
These identifications or attachments could belong to the world of form or the formless. The world of the formless corresponds with the mind; believing that you are your thoughts, or being attached to a mental position, etc.
It is clear that all of us don't have the same preferences and values. However, it can be very beneficial to recognize that our point of view is not the only one or the best one, and that other points of view are not wrong. To feel otherwise implies that we are better, superior,
or more than others.
The world of form corresponds with material possessions such your car, your house, or even your physical body.
Looking at it in this way, it seems almost impossible that someone could believe he is his car, his house, or his material possessions. But this is a reality.
In the current days with the economic crisis, a lot of people have lost everything, posing the question: "If I'm still here and everything I thought I was is gone, then who am I?"
Yesterday, Suki, our beloved cat of 15 year passed away. I was by her side in her last moments, and I was witness to the life that had inhabited her physical body slipping away, leaving her motionless beside me.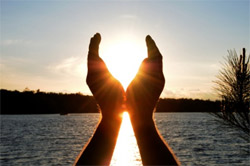 This is a reminder that we are not our bodies, but the energy or life that lives within it.
The most shocking thing to me in this sad moment was that, though she was gone, everything else around us seemed to remain the same, as if nothing had happened.
The previous night, with her in bed, I was listening to an audio book of Eckhart Tolle, in particular the part that talks about life and death. He said that we separate life and death as two different events, as if we are suddenly transported to a jungle where everything appears chaotic and disorganized. But if we learn to simply be in stillness, in pure presence, we can realize that there is no separation between life and death. It is all part of the same cycle, something that is happening constantly outside of and inside of us.
My spiritual teacher, Yogi Bhajan, taught us that when we are born there is a specific number of breaths granted to us, and when this number of breaths is finished we leave the body. For anyone who finds themselves in a similar situation with a loved one in the future, Yogi Bhajan gave us the mantra AKAL to liberate the soul from the physical body. It simply needs to be recited three times in the following way:
AAAAAAAKAL
AAAAAAAKAL
AAAAAAAKAL
A long AAAAAA and a short KAL. It doesn't require any particular tone or rhythm, simply your tone. Some people do this for seventeen days, others for three, four, or just one. I believe the official way is seventeen days.
Not long ago, while talking with friends, we were commenting on the passage of time. One friend commented that sometimes, when looking at his reflection in the mirror, he was surprised to find an older version of himself.
This is the moment when the separation between the real Me, the observer, and what is observed occurs.
You can reach the same conclusion in other ways, for instance if your physical body doesn't look like you would like it to, or if you don't believe that you are a beautiful person by today's social standards or even by your own. If this is the case, you may already be conscious of the fact that you are not the body you are living in.
In the Tibetan book of life and death, there is a paragraph that has impacted me greatly and has since helped me to reach a meditative state. The paragraph says that the air that is inside of you is the same air that is outside of you, and the physical body is compared to a vase that contains it.
Nevertheless, the attachment to the body and to all the objects that adorn it is big, as if these things will make us more or somehow change who we really are, our real I, the breath of life that inhabits this body.
Judging by today's society, the ego seems to be something innate in us, something that very few of us can escape from. This may be because we imitate what we see, much like children.
Once we accept that the ego creates this suffering in our lives, we may then desire to be rid of the ego, therefore rejecting something that we already have. However, this will create the exact opposite of what we want, because rejecting something only makes it more present in our lives.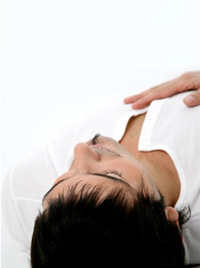 The acceptance of the ego as something that takes a big part in our lives is liberating. Keep the mind alert and observe your own thoughts, actions, and reactions. Only by doing this can we begin to know ourselves. Observe without judging! When you are conscious of these thoughts, you can begin to ask and investigate in depth about the origin of them.
From the perspective of a yogi, it is very important that we are conscious of these identifications. A yogi cultivates the relationship between the sensation of the finite self and the sensation of the infinite self. The mind forgets this relationship when it becomes attached to a particular emotion or an object that it wants to keep in its possession.
One of the important habits for a yogi to develop is the ability to mentally break the hold of these attachments and shift the perspective towards the infinite. You exist before all the objects you collect, and even before the body you use. It is a very effective reminder of your true identity with your infinite self.
Mantras connect the finite and infinite identities.
Here some exercises for the ego: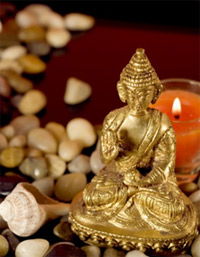 Blessings,
Indra K.