The best place to meditate should be a quiet place in the house where there are no people passing by. It could be a room or small corner, but should be ventilated. The temperature of the room shouldn't be too cool or too hot, and the room shouldn't be too bright either.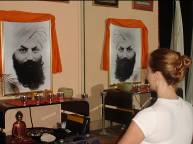 You may want to make your meditative experience more special by adding some candles, photos of a person or deity that inspires you, incense, and other inspirational items. You can also play some relaxing music. All of this is nice but not necessary.
Outdoors is great to practice mediation but with respect to the above conditions.
Have handy a Yoga mat, meditation cushion, timer, and a light shawl or jacket. You will most likely need them.
Meditation Table of Contents