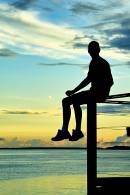 There are numerous benefits associated with the practice of meditation. Here are some just to name a few:
Mediation creates a metabolic state deeper than that which occurs during sleep.
Meditation reduces blood lactate, a symptom of stress.
Meditation increases calming hormones like melatonin and serotonin, while decreasing cortisol.
Meditation improves short vision, hearing, and blood pressure, which can all be impacted by aging.
Long term meditators have 80% fewer heart-related diseases, and have a 50% less chance to develop cancer.
Meditators release DHEA, a youth-related hormone. In fact, 45-year-old male meditators have 23% more of this hormone. This hormone increases sexual function and memory, and decreases weight and stress.
75% of insomniacs were able to sleep normally when practicing meditation and 25% were improved.
34% of chronic pain was decreased in patients when practicing meditation.
Pre-menstrual syndrome symptoms decreased by 57%
There was a notable decrease in migraines.
Anxiety and depression were reduced significantly.
Working people missed fewer days due to illness.
Patients with AIDS and cancer experienced decreased symptoms.
The use of medical care and hospitalization was reduced.
Post-traumatic stress syndrome improved.
Meditation Table of Contents