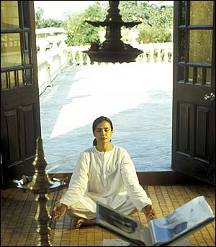 Don't judge yourself.
Act as a witness to your thoughts.
Re-focus on the breath. Every time you find yourself engaging in mental distractions, congratulate yourself because you have just passed a great barrier: BEING AWARE. Then, return to the breath.
Don't engage in mental distractions; just observe how many times different thoughts (or a particular thought) come to you and how this makes you feel. Then, return to the breath.
Accept what it is. Even if you don't like it, start accepting that you don't like it!
Don't have any expectations.
Surrender! To your breath, to your practice.
Realize that the air inside of your lungs is the same air that is outside. The physical body is your mental barrier. You can break this barrier just by being aware of it!
You can mentally divide your body into molecules of ADN (energy dots). Then, do the same with your surroundings, and become ONE with everything around you.
When possible, follow the sutras. Learn to withdraw the attention from external and internal disturbances (pratyahara), refocus on the present, use the breath (dharana), and use meditative awareness (dhyana) to eliminate any mental or emotional reactions that arise during meditation. This will allow you to get to deeper layers beyond stress and emotional traumas of the past.
You already exist. If there is a mantra to keep in mind, this mantra will be I AM. Do not expect a magical lighting bolt to strike you and make you different or special. Remember you ALREADY ARE and you have all these qualities within yourself. Just listen.
Meditation Table of Contents